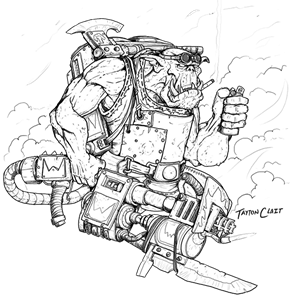 It's finally time for the first component of Ere Be Stuff to be released – Burnas!
Yes, yes, we've released Matt's Mutie healing rules as a preview release, but they're still being worked on, tweaked, illustrated and updated.
Given the Orks' penchant for fire in all its incarnations it's a little surprising that dedicated burna rules were never released but now they have been!
Previously fire and burnination was limited to scorchers and the odd splattapult payload but we here at tUGS felt that something as delightfully destructive as fire should appear more often. That and there's been so many great models for them released!
Primarily written by Benjamin Fox (tUGS's very own Flamekebab) but with significant contributions by the whole team, this release sees the first public appearance of Clayton's artwork for the project. I'm sure you'll be as impressed with his artwork as we all have been. You can see more over at his DeviantArt page.
So, we present for your consideration, Burnas in Gorkamorka:
Edit: A new PDF has been created using the more modern template.
This document was written by Benjamin Fox and contains artwork created by Clayton Tait. It's licensed under a Creative Commons Attribution-Non-Commercial-Share-Alike license.
7 Responses to "Burnas in Gorkamorka"
Leave a Reply