When Gorkamorka was first released the Necrons didn't officially exist, although GW had toyed with the aesthetic in Space Crusade for their Chaos Androids. They'd been planned though and hidden amongst the artwork for Gorkamorka was something rather familiar to modern players…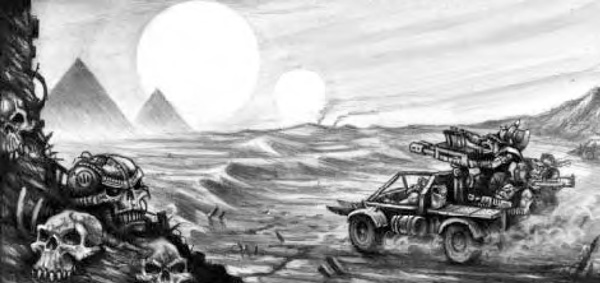 It was several months after Gorkamorka was released before the Necrons were launched. By modern standards it was a pretty subdued affair – initially there were only Necron Warriors and Scarabs. As part of that release push there was this showcase article on some rather good Necron-themed terrain, complete with an in-progress Adeptus Paleologos dig site. It's from White Dwarf 220 and features the work of Dave Andrews, Owen Branham, and Mark Jones.
Heads up for those on mobile connections and similar – the file is about 15 MB.