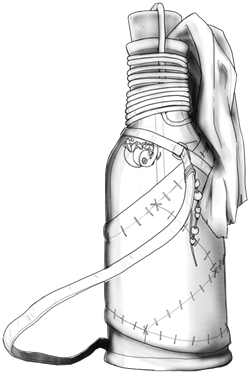 As a big fan of both The Warriors and fire I couldn't resist the urge to write something to let the Diggas wreak fiery havoc on their enemies. They may be the underdogs but they've got a lot of fight in them!
Firewater is both a strong liquor and an excellent weapon. Add a burning rag and you've got a Molotov Cocktail in a pinch.
I drew some concept art to go with the rules but it didn't turn out so well – so I gave the doodle to Clayton and he came up with this bit of awesomeness.
Can you dig it?
This document was written by Benjamin Fox and contains artwork created by Clayton Tait. It's licensed under a Creative Commons Attribution-Non-Commercial-Share-Alike license.
One Response to "Digga Firewater"
Gaueko Says:
November 13th, 2012 at 10:26

Thanks a lot for this and althought this post has not have any life on years, it is still online. Thankyou again for giving us the chance to enjoy GorkaMorka
Leave a Reply