Here we go, Feral Orks! There's no photos at the moment as Midnight hasn't quite finished them all yet. More to come. Huge thanks go out to Skippy, Mattzm, Depiff, and Flamekebab for making these rules possible.
Mob layout
Brute
Your mob must include one Brute.
Weirdboy
Your mob must include one Weirdboy.
Wildboyz
You may include as many Wildboyz as you can afford.
Fickies
At least half of your warriors (50%) must be Fickies. You may take more than this if you wish, but should your mob fall below the threshold you must hire more Fickies at the earliest opportunity.
Squiggoths
Your mob needs sufficient transport for all of them. When buying squiggoths you must allocate them a Wildboy, Brute, or Weirdboy to act as the creature's driver. If there is a fixed weapon then a gunner must also be chosen. Neither of these two positions can be held by a Fickie.
Squig Riders
Ridin' Squigs are purchased separately from the Wildboy that rides them and the Wildboy must skip one battle training and working with the squig so that it doesn't immediately try to kill him. Fickies cannot ride squigs as they are too dumb to remember to fight and hold on at the same time. A Wildboy mounted on a squig adopts a new statline that combines both his and the squigs stats in a manner similar to a Mutie Raider. Further details can be found in the Ridin' Squigz section of the rules.
Weapons
Feral Orks use their own weapons list, found in the Armoury section.
Brute
Cost: 12 teef
A tower of terrifying muscles, teeth and rage, these brutes lead a Feral Ork mob into battle, often with their Big Hammas leading the charge!
| M | WS | BS | S | T | W | I | A | Ld |
| --- | --- | --- | --- | --- | --- | --- | --- | --- |
| 4 | 4 | 2 | 4 | 4 | 2 | 3 | 1 | 6 |
Weapons: Brutes may be equipped with anything from the Fighty Bitz, Huntin' Stuffz, Armour, and Boss Gear lists.
SPECIAL RULES
Unlike other mob leaders, Brutes do not gain a bonus to their Leadership after winning their first game, however for the purposes of Fear their leadership is at +1 – they're a bit too dim to be properly frightened of most things!
(see Feral Orks & Campaign for details on challenging Da Brute)
Weirdboy
Cost: 10 teef
A Feral Ork mob must have 1 Weirdboy, no more, no less. If your Weirdboy is killed you must replace him at the earliest opportunity.
Fizzing with the power of da Waaagh!!, these little fellas pour the raw essence of Gork and Mork through their comrades and channel it through their staffs to make lightning, fire and other bizarre effects! Weapons: All Weirdboyz carry a Weirdboy Staff which they can use in combat and is factored into their cost. Additionally Weirdboyz may be equipped with anything from the Fighty Bitz, Huntin' Stuffz, and Armour lists.
| M | WS | BS | S | T | W | I | A | Ld |
| --- | --- | --- | --- | --- | --- | --- | --- | --- |
| 4 | 3 | 3 | 3 | 4 | 1 | 2 | 1 | 6 |
SPECIAL RULES
Pinning: Feral Ork Weirdboyz are subject to pinning.
Weirdboy Powers: Weirdboyz have a special set of skills or "powers" which only they can acquire. See the section on Weirdboyz later on for a detailed description.
Wildboyz
Cost: 4 teef
In Mektown, these Orks would be close to being Nobs. If only they could spell it. However, what they lack in cunnin', they make up for in sheer Orkyness! Each Brute has a few of these around to help keep the Fickies in line and for certain special skills like squig riding. Or walking and talking at the same time. Weapons: Wildboyz may be equipped with anything from the Fighty Bitz, Huntin' Stuffz, and Armour lists.
| M | WS | BS | S | T | W | I | A | Ld |
| --- | --- | --- | --- | --- | --- | --- | --- | --- |
| 4 | 3 | 3 | 3 | 4 | 1 | 2 | 1 | 6 |
Fickies
Cost: 2 teef
Thicker than minced squig, in a real Ork army these guys would be nothing but cannon fodder. However, between the Brutes roaring and the Weirdboyz throbbing head veins, these slabs of muscle can be put to devastating use. As long as they don't knock too many lumps out of each other first. Weapons: Fickies may be equipped with anything from the Fighty Bitz, and Huntin' Stuffz lists.
| M | WS | BS | S | T | W | I | A | Ld |
| --- | --- | --- | --- | --- | --- | --- | --- | --- |
| 4 | 2 | 1 | 3 | 3(4) | 1 | 2 | 1 | 5 |
SPECIAL RULES
Fickies Psychology: Fickies are under the Fickies psychology rules at all times.
Drivers and Gunners: Fickies can never act as drivers or gunners.
Tuffin' it out: When Fickies reach the starting experience threshold for Wildboyz they automatically gain +1 T in addition to any other stat increases they may have accrued. This does not allow them to exceed the maximum statline however.
Vehicles
The Feral Orks have almost none of the genetic mechanical knowledge that Mektown Orks have and as far as can be told, no Mekboyz have ever appeared in their society, seemingly replaced by an overabundance of Weirdboyz. As a result, the Feral Orks turned to the squiggly beasts as a source of transport in order to haul vast loads and compete with the vehicles of the Mektown Orks. There are two types of squiggly beast available for purchase in a Feral Ork mob, the squiggoth and the riding squig.
The squiggoth is an exceptionally large squig though not perhaps as large as those fielded by a true Ork Waaagh!!! The beast lumbers along, directed by reigns and having large platforms attached to it by whatever means necessary, even by forcing the pieces through the skin until they stay put. The lads all pile on and ride these somewhat unsteady ships of the desert into battle.
The riding squig is equivalent to an Ork as a horse would be to a human except that it has a temperament more akin to an angry bull and teeth like an entire armoury of chainswords. Some Wildboyz go out into the Fungus Groves and attempt to tame these beasts to use as mounts. While the end result is far from what any animal trainer would call tame, the beast will at least tolerate being ridden long enough to occasionally be an asset in combat.
Squiggoth – 15 teef
Squig mount – 5 teef
Drivers and Gunners
When purchasing a Squiggoth a driver must be assigned, just like any other vehicle. If a fixed weapon is mounted then a gunner must also be chosen.
Equipment List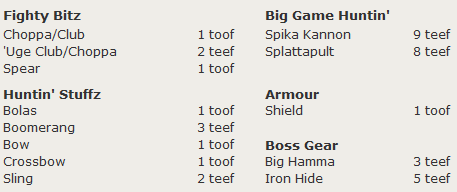 Tags: Feral Orks