'Ello folks. We've been a bit quiet on the Mutie front as of late but I think we have finally hammered down all the niggles and concerns I had for the Muties healing rules. This week is all about the Muties as they ride in, burn your fungus crops and hear the lamentations of your grotz.
Continuing on the theme of our hot off the press Tagz which in the basic set are primarily geared to be achievable by anyone, regardless of the mob that they play as, this set is purely Mutie based, taking into account their unique skill tables, their largely unrealised potential for fear and terror mechanics and several new features that while you've seen and heard of being developed, are about to be released for the first time ever to the general public.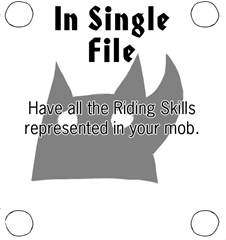 Basic Mutie Tagz Pack – A4 PDF
Basic Mutie Tagz Pack – US Letter PDF
Basic Mutie Tagz raw image (PNG)
Some of these as this week begins are not immediately achieveable or take an extreme amount of effort or luck to get. By the end of the week, these should all be within the grasp of a mid-level mob.
I'm kind of excited by this week as I'm the only Mutie player in our little venture so to see my favourite little buggers get some fresh treatment is really exciting.
This week starts off with our Tagz pack, moves to patching up your injured Muties with the 2nd Open Beta of Da Green Pitz, adds a scenario to help give the Muties a unique feel and if we're really really lucky, rounds off with a true resurrection as Flamekebab kitbashes out some new Muties from modern parts. How awesome is that?
Stay Green kids. 🙂
One Response to "Orktober – Muties Week – Mutie Tagz"
Deathrace King Says:
October 4th, 2010 at 07:20

That sounds freaking awesome! I love muties!!
Leave a Reply