21 Oct 2010
Orktober – The Dust Rats – Equipment List
Filed under:
Ere Be Stuff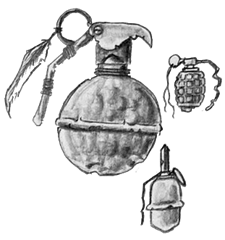 So, you've got the other information for recruiting some Dust Rats, presumably you'd like to actually equip them too. We thought you might.
There's weapons, equipment, gubbinz, the whole lot. You're going to need a copy of both Da Roolz, and Digganob to get the full use out of this lot. We apologise if you've not got Digganob, but it's quite easy to find on eBay for a reasonable sum.
Here's a run-down of the pricing first, cost in teef as you would expect:
Hand to hand
Revolver
Machine Pistol
1-Handed CCW
2-Handed CCW
Chain/Flail
D.E.W. Pistol
Flintlock
Sword

2
3
1
2
1
3
4
3

Gunz
Carbine
Shotgun
D.E.W. Rifle
Long Rifle

Grenades
Frag
Krak

3
3
5
9

3
5

Big Gunz
Heavy Machine Gun
Recoilless Rifle
Slug Thrower
Incinerator

15
13
15
8

Armour
Combat Vest
Ceramic Inserts
Blast Plating
Ammo Webbing
Backpack Frame

2
5
5
5
5

Gubbinz
Advanced Suspension
Air-Bag
Bullbar
Cargo netting
Extra Armour 
Fuel Injection System
Loadsa Ammo
Scrap Magnet

5
2
5
3
4
6
1/4 Weapon cost
5

Equipment
Tactical Helmet
Exposed D.E.W. Mags
Stinger

8 
1/2 Weapon cost
4
Note: Items in italics may only be purchased by warriors of Veteran level or above (i.e 61+).
Additional note: In the PDF there is a note that says "DIAGRAM" in the Stinger's entry. It hasn't been created yet (our artists are working on fancier things at the moment) but will be present soon. There will also be a template for the item. In the meantime, the Stinger template is 4" long and 1" wide, make your own.
The rules for all of them are in a PDF. The stuff is just way too long to release all at once on the site.
As this is just the beta we're not going whole-hog and laying things out like our normal releases. We've got some artwork in the pipeline from Mike Lawler for use in the final thing, but that's something to look forward to.