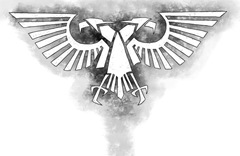 Rabtar has been in touch on the Waaagh and requested a complete PDF of the current iteration of the rules for the Dust Rats. This seemed pretty reasonable to us, so Flamekebab was shackled to a copy of MS Word 2007 (too many tables to do it in Scribus right now, don't ask). Several hours later and a louder tirade of obscenities than usual, the following PDF emerged.
As before, feedback on the rules can go in the comments, or over on the relevant topic on The Waaagh.
If you'd like to different components and Tagz, there's links to them all here.
This document was written by Benjamin Fox, Ross Graham, and Matt McPherson . It's licensed under a Creative Commons Attribution-Non-Commercial-Share-Alike license.
Tags: Dust Rats