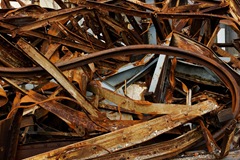 Here's another scenario from Gubbinz, a chase scenario this time with scrap counters too.
As I've not played it, I'm afraid I've not got much to say, although it sounds quite fun to me so perhaps I'll get a chance to give it a shot.
Written by Jonathon Williams.
A new scenario in which a Mek convoy, laden with scrap, becomes the target of a bandit attack, in a high-speed chase across da Skid.