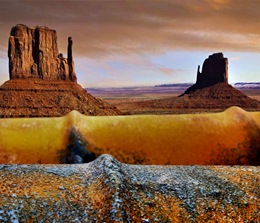 We've nearly reached the end of Tim Cammack's Orky odyssey, but there's certainly no dip in quality.
This scenario bears a few similarities to the mall part of Left 4 Dead 2's "Dead Center" campaign, although given that this was first published in Citadel Journal 29 (in 1998) it's probably safe to say that it's coincidental!
One of the Mobs have run out of Squig Juice and will have no fuel for their vehicles until they can get back to their fort with the new supply they have just bought in town (Orks are so stupid that they will often run out of fuel before they realise that they are low!). The other Mob has just heard this news from a sneaky Grot informer and is seizing the opportunity to attack, attempting to bash their enemies and nick all their fuel.
(image by Cleary Ambiguous licensed under a Creative Commons Attribution 2.0 license)
2 Responses to "Into Da Big Nuffink 4/5 – We'z Outa Juice"
Andres Says:
January 6th, 2022 at 17:30

I cannt download the pdf!! Could you help me?

Flamekebab Says:
January 14th, 2022 at 18:47

Loads just fine for me!
Leave a Reply