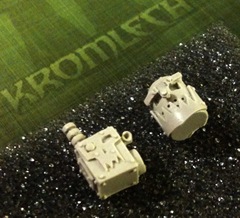 As part of Kromlech's Clanking Destroyers some awesome heads were sculpted by Marcin "Majster" Szmyt. These currently aren't available on their own but may be for sale as a pack in the near future. If you were at Salute 2010 you may have got your hands on them already as part of a Clanking Destroyer, but even those aren't available on the MaxMini store at the time of writing.
The head on the left in the photo below is visible in the Clanking Destroyer preview photo, but we'd not seen the other two before and it's safe to say we were all impressed.
These look ideal for Orks who've been given an Iron Mask, or for building Da Krusher (there's never been an official release of him, after all). If they become available we'll post a link here of where to get them. Until then maybe drop the Kromlech guys an email to let them know how much you want them?