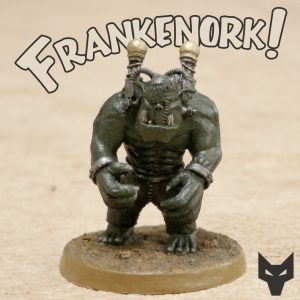 As the nights grow longer there's more time that monstrous creatures can prowl unseen. In this case though it's probably more interested in fungus tea and some peace and quiet…
Remember our Frankenork scenario from six years ago? Well one of our lot sculpted Da Monster for a competition a little while back. It's a direct adaptation of the artwork though so he couldn't just get copies made for sale without securing permission. That's all sorted now though (Cheers, Clayton!) and now Da Monster is up for sale over on Fox Box.
To commemorate this we've laid out the scenario in the new template and given it a bit of polish. Call it version 1.1 if you like!
These rules and artwork are licensed under a Creative Commons Attribution-Non-Commercial-Share-Alike license. The rules were written by Benjamin Fox, Ross Graham, and Matthew McPherson. The artwork was created by Clayton Tait. The layout was made by Benjamin Fox using images created by Jenny Mathiasson and is also licensed under a Creative Commons Attribution-NonCommercial-ShareAlike 3.0 Unported license.
Tags: Orktober
2 Responses to "Frankenork!"
Redsunz2000 Says:
November 5th, 2016 at 19:27

A great atmospheric scenario – I must have missed this before. Must check out the figure on Fox Box too.

Redsunz2000 Says:
November 18th, 2016 at 19:44

Got the figure of Frankenork from Fox Box and he's great! Thanks!
Leave a Reply