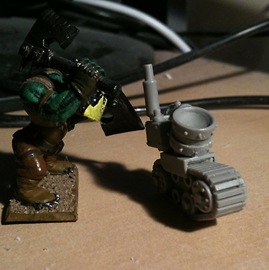 Well, we've been waiting for a little longer than we'd like but the wait is finally over – our MaxMini/Kromlech parts finally arrived!
Here's a photo of the traks that are available. Unfortunately we can't show you them on a model yet as this particular set is for the Kaptin, Grob, of our GoMo campaign's freebootaz. He recently visited the dok as you might have read in the latest battle report. Thanks go out to Morduff for posing alongside the traks for a sense of scale. As you can see he recently went under the knife himself. Hopefully there'll soon be a good model for Iron Mask, although Black Orc heads are pretty awesome for that purpose too if you don't feel like converting one like I did.
He'll soon be sporting these in place of his horrid old legs, both of which were crippled, limiting his movement to 2" per turn. This prevented him from doing more than riding around on vehicles or shooting. Ironically, in game terms he now counts as a vehicle!
Each of these photos links to a better quality high-res photo to let you get a clear idea of how they look. Once they're painted I'm sure a photo will be made available for your viewing pleasure.
We've got all the other bioniks they sell at the time of writing, but we think we'll save them for another post.
In terms of quality, we can say that these are beautifully sculpted, just as good as GW's modern stuff, if not better. The bioniks are also miles better than the original pieces. We can't post a comparison photo for these traks though, as none were ever produced!
Normally you'd be able to grab your own set over here but they've been so popular that they've sold out for now. From what we've read, a fresh batch is being cast at the moment and they'll soon be available again.
Edit: They're now back in stock!