27 Apr 2010
New Kromlech Ork heads – "Orc War II"
Filed under:
Modelling
Just a short one this time – Kromlech posted a pic of these snazzy ork heads a few days ago: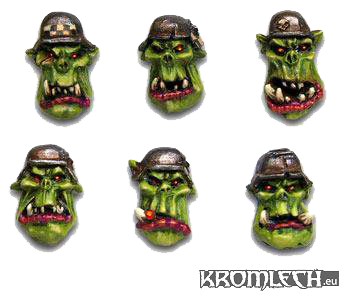 They're apparently part of a range of orks (ahem, "orcs") called "Orc War II". If they've already been sculpted, cast, and painted, we would imagine they'll be available at MaxMini soon. Probably. They may have been available at Salute 2010 which was this weekend, but they're not currently on the MaxMini store.
If you're looking for some more heads, or perhaps you want to make a themed mob, these might be just the ticket. We look forward to seeing what other Orc War II goodies are in the pipeline!