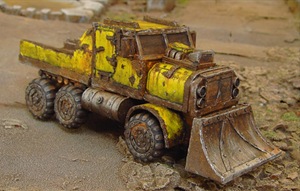 As you probably know, we're big fans of Ramshackle Games here at tUGS and we've just noticed that they've released something new that might be of interest to our fellow GoMo players.
As there's no date on their new releases page we can't tell you how long it's been out, but it can't have been more than a week or two. Either way, we think it looks rather good and would look great on the board alongside any other vehicles.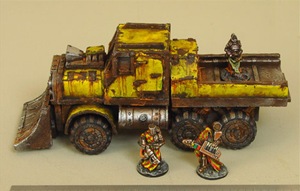 It's a multipart kit made entirely from resin and the individual parts are available separately if you don't want the whole model. If you need a decent set of wheels for a scratch-build you can find the wheels used on the pickup truck here.
It'll set you back £10, half the cost of a modern Ork trukk, which isn't bad.
Have a look around their site as they do a lot of other awesome stuff. Our playtesting vehicles for the Dust Rats use a lot of their parts for example (Speaking of those, another one is due to be unveiled as soon as Flamekebab has finished painting it).
The images in this article are taken from the Ramshackle Games site but are used with permission. Thanks, Curtis!