We've been talking about them for a while, but today you can finally use them in their full capacity – Gorkamorka Tagz.
Tagz are our attempt to create a system of "achievements" for Gorkamorka, optional extra challenges for players to attempt. Tagz show off the exploits of your mob and encourage you to try tactics you might otherwise not attempt, helping you keep things fresh and interesting.
We're not trying to force this on players (we couldn't even if we wanted to!) and we want to stress that these should work even if no other players want to use them. We also want to make sure you guys understand that this first release is the basic pack, hopefully attainable by all mobs, not just Orks. We're going to be releasing further packs based around the different factions, scenarios, and campaigns.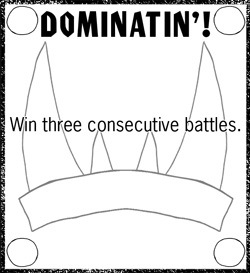 There are two ways you can use Tagz – one involves a blank grid and cutting out tagz, the other is a full grid with rivets to highlight upon completion.
So, here you can see the Tag Dominatin', if you were to pull off this impressive feat you would cut it out and stick it to your grid.
Alternatively, you'd find it on your grid of Tagz and shade in all four rivets with a pen/pencil/blood.
We're providing these to download in two different sizes – one is A4, the other is US Letter. Both grids are exactly the same size, or should be, the idea being to create a standardized size so that any Tagz created by anyone else will fit your grid, not just ours. Each tag is 47mm wide and 51mm tall, by the way, but we'll be providing more details on that sort of thing later.
If you're feeling lazy, just grab the Basic Tagz below. If you prefer to get your hands dirty, a blank grid is provided too.
If you've got any questions, post them as comments and we'll do our best to answer.
6 Responses to "Orktober: Gorkamorka Tagz – Basic Pack"
Leave a Reply