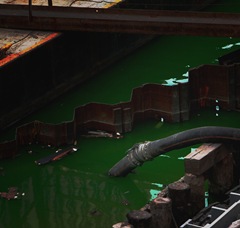 We hope you're having a good Orktober so far, we certainly are. Here's the scenario we mentioned at the start of the week and as it happens, this is our 100th post on the site, huzzah!
Mutie captives have pretty dismal prospects as it is, but the existence of the sacrificial pools is something few ever hear of, dead men tell no tales, after all…
Matt has written a scenario to play should one of your mob members be unlucky enough to be captured by Muties. No longer is there only Convoy as you can at last take the fight to the Muties.
This scenario is also the first to be released by us that contains Notmobz – NPC characters that operate independently of both players. It's just a simple one here, but we've got bigger things in store in future.
We're assuming you know how rescue scenarios work, if not, see pages 100 and 101 of Da Uvver Book, but you don't need us to tell you that, do you?
These rules and artwork are licensed under a Creative Commons Attribution-Non-Commercial-Share-Alike license. The rules were written by Matt McPherson, the artwork created by Clayton Tait and the layout graphics were created by Ben Fox.
(Photo by quinn.anya licensed under Creative Commons Attribution-ShareAlike)