26 Oct 2010
Orktober – The Dust Rats – Dust Rat Tagz
Filed under:
Ere Be Stuff
Now that the Dust Rat rules have been released, there's a couple of other things we'd like give you.
We've created a basic set of Dust Rat Tagz to get you started. Eventually we'll probably create an advanced pack, so if you have any suggestions, go post them in a topic about Tagz that Flamekebab created on several forums. Here's the discussion topic for them on The Waaagh.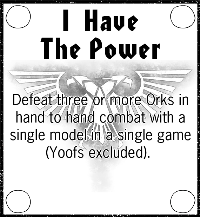 Basic Dust Rat Tagz – US Letter PDF
Basic Dust Rat Tagz – raw image (PNG)
Confused as to what the hell we're talking about? Go have a look at this post, all, or at least most, will be revealed.
If you need a blank grid for your tags you should also check out that post, but we'll save you some time:
Blank Grid A4 PDF
Blank Grid US Letter PDF
Blank Grid raw image (PNG)