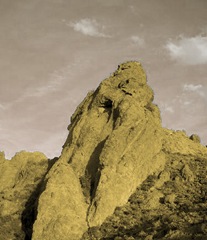 This may well have been printed in the Citadel Journal, but we can't find any reference to it. It was in Gubbinz, a very out of print magazine for Gorkamorka which only made it to a single issue. We've also heard that only 5000 were printed, so worldwide it's not exactly easy to find.
Well, here's the first scenario from Gubbinz, "Nob uv da kop", written by Andrew Stickland. From what we've dug up he's written material for Necromunda before, including a scenario or two and rules for "blind fighting".
We don't think these rules have been published online before, so we hope you enjoy this exclusive.
Everyone knows there's piles of scrap all over the place out in Da Big Uz. But some of it is so dangerous to get to, only the toughest and bravest mobs will succeed in bringing it back and reaping the rewards in Mektown.
(Photo by J. Stephen Conn)