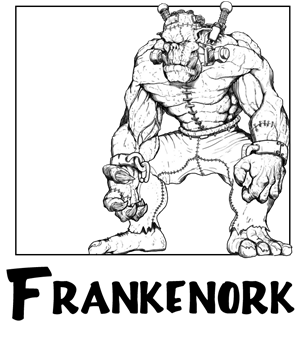 Happy Halloween, everyone!
Today we present for your consideration the tale of Doktor Sheller and his unnamed creation in the scenario "Frankenork".
It's the final bit of content we're releasing during Orktober. It's been a great month and the response we've had from the community has been fantastic. Hopefully we've inspired some of you to create stuff, you've certainly provided lots of inspiration for us.
Download PDF
These rules and artwork are licensed under a Creative Commons Attribution-Non-Commercial-Share-Alike license. The rules were written by Ben Fox, Ross Graham, and Matt McPherson. The artwork was created by Clayton Tait and the layout graphics were created by Ben Fox.
Tags: Orktober
3 Responses to "Orktober – Halloween – Frankenork"
Deathrace King Says:
October 31st, 2010 at 10:52

Great Idea!
I will try it, when we play the next time!

Da Bigdogz – Gorkamorka Mob #2: Frankenork, Boyz & Yoof « sho3box Says:
May 15th, 2011 at 23:03

[…] I decided to make a Frankensteins Monster ork.   This was in no small part inspired by the Frankenork Scenario available at tUGs.  The monster in the scenario is an unarmed pacifist but I armed my ork […]

Sculpting Da Monster | Fox Box - Purveyors of greenskins and forces that oppose them Says:
May 17th, 2016 at 14:34

[…] fair few years back we put together a scenario called "Frankenork" featuring a create so disgustingly unorky that it could not be allowed to live. It […]
Leave a Reply