28 Oct 2010
Orktober – Halloween – Night of Da Livin' Scrap
Filed under:
Scenarios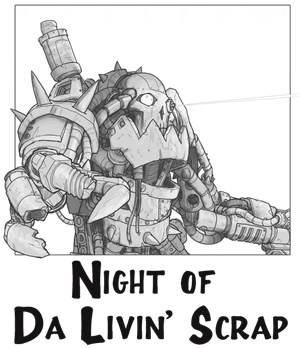 Had he been going to bed earlier every night? Had he been sleeping later?
One of the Mekboys has been very, very busy…
These rules and artwork are licensed under a Creative Commons Attribution-Non-Commercial-Share-Alike license. The rules were written by Ben Fox, Ross Graham, and Matt McPherson. The artwork was created by Clayton Tait and the layout graphics were created by Ben Fox.
Tags: Orktober
5 Responses to "Orktober – Halloween – Night of Da Livin' Scrap"
Leave a Reply