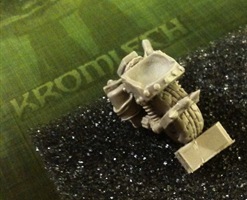 We gave you a teaser on Monday that we'd received a package, the time has come to reveal the contents, all of which are courtesy of the awesome folks at Kromlech. The first special thing is a pre-release copy of the gyro-stabilised monowheel sculpted by Hamster_52 which fits a modern Ork/Orc torso perfectly and looks fantastic.
In our GoMo campaign we've already had one lad who has got one of these, but up until now we've had nothing to model it. This one is shortly going to be grafted to a lucky Ork freeboota known as Carudders, the old Kaptain of Da Cuttas Ov Da Jibb.
They're not available on the MaxMini store yet, but when they are there'll be a link here.