11 May 2010
Orc War II heads
Filed under:
Modelling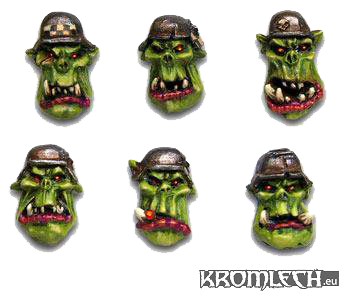 One of the other things Kromlech sent us was a complete set of the first Orc War II heads. These are already available on the MaxMini Store, so you might have seen them already. We hadn't and think they're pretty awesome.
They were sculpted by John Connor and would fit in perfectly with any Ork mob, although they'd make great Gorkers or Morkers we reckon.
Below is a photo of what they look like unpainted to give you an idea of what they look like when you receive them. Other than that there's not much to say. Awesomely Orky heads, available now, reasonably priced. Enjoy!